EXPERIENCE HERE
Start Your Journey
Our community is filled with vibrant, wonderful stories shared by those who live here. Meet the people of Clark County and discover what makes them, and our home, an amazing place to live and work.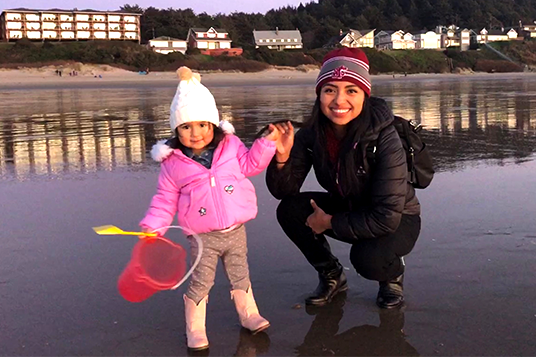 Meet Lili
A first-generation college student, web designer and small business owner.
"As an immigrant, Clark County has felt like home since I arrived here from Veracruz, Mexico. As a small business owner, I hope to create jobs and inspire others to grow their business here. The people, especially the entrepreneur community, are what makes this community so special. And it cannot go without saying that we have the ocean, mountains and beautiful trails all within a few hours drive away."
Meet Ashlyn & Billy
Career-driven, philanthropic and parents to Stella.
"We both moved here with our families when we were teenagers and we quickly grew to love the Clark County community! Attending WSU Vancouver gave us the opportunity to make lifelong friendships and form strong ties of our own. We are fortunate to have found and built careers we are passionate about without having to cross the river. We continue to put down roots in Clark County because we love the proximity to the beach, the mountains, the city and the climate we get to experience here. And most of all, we love the people. Clark County is full of truly amazing people who work hard and give generously to make it a great place to live."
Meet Nolan & Armando
Wine connoisseurs, community connectors and 5-year residents.
"After moving to the area for a career change, we have found Clark County to be a great place to live and work! We enjoy being so close to a major city while having so many offerings in our own neighborhood, with many great local restaurants and wonderful places nearby where we can enjoy a delicious glass of Clark County wine. The rainy days followed by blue skies, vibrant green trees and mountain views are so refreshing to get out and enjoy a walk on the nearby trails."
Meet Jessica
Night Market Vancouver creator, entrepreneur and Sumo's mom.
"I've moved up and down the West Coast most of my adult life, and I've never felt more at home until I lived in Vancouver. The city radiates a proud and collective effort from all the people living in it and working together for something greater. From the people, to the amazing local businesses and their owners combined with a growing selection of yummy eats and drinks, we have access to everything; the beautiful waterfront, downtown and a variety of events that bring our community together. I have fallen in love and am beyond proud to call Vancouver my home!"
Meet Felix & Fam
Family-focused, sporty and lots of swag.

"Relocating my family to Vancouver in 2019 has provided us with new and exciting opportunities. My kids attend the highest rated schools in the Vancouver Public School system, and my wife and I work for supportive and outstanding organizations at WSU Vancouver and Legacy Health. We are heavily involved in both local youth sports and outdoor recreation activities almost every day. Additionally, the nightlife in downtown Vancouver and at Ilani have great down-to-earth vibes with just the right amount of swag. We look forward to raising our kids and strengthening our family in Vancouver."

Explore Our Community
Enjoy the excitement of the city and the escape of the outdoors. Our community offers it all.